Fantastical . . Flexible . . Furniture
Fantasy For Practical . . Flexible . . Furniture
MYTH OF MODULAR FURNITURE:
SO... you really think the furniture companies out there produce truly modular, space-efficient furniture?
Think again. My purpose is to demonstrate, that what they would have you believe, isn't necessarily true at all.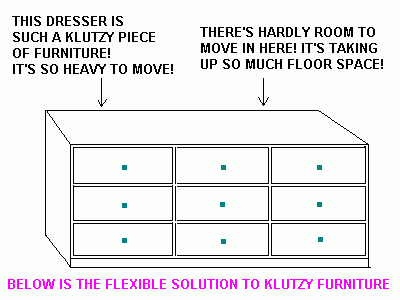 The bedroom furniture depicted below is meant to be

lightweight-metal or plastic construction

easily assembleable & dis-assembleable

modular (may be arranged into a choice of flexible, space-efficient configurations)

inexpensive, yet utilitarian & durable

and would come in especially handy for people who:

often move & prefer to easily dis-assemble & transport lightweight furniture via their cars

are weaklings, & prefer easily-portable, dis-assembleable, lightweight furniture

lack much storage space, yet need alot of storage, thus modular, vertically-configurable units are invaluable

are forced by circumstances to be budget conscious


NOTE:

THE BELOW FURNITURE DIMENSIONS WERE DELIBERATED TO AFFORD OPTIMAL STORAGE SPACE. FOR EXAMPLE, THE DRESSER IS 35" HIGH WITH 4-DRAWER LEVELS AND CONFIGURABLE TO BE NARROW, REGULAR, OR EXTRA-WIDE. COMPARE THAT TO STANDARD TRIPLE DRESSERS (or even less-wide, 52" dressers) WHICH KLUTZILY USE UP REAL ESTATE (and are heav-v-vy!) WHILE OFFERING ONLY 31" HIGH, 3-DRAWER-LEVEL STORAGE. ALSO, COMPARE THE BELOW HI-BED TO STANDARD HI-RISER UPPER-BEDS. THIS ONE WOULD BE HIGHER, OFFERING SUFFICIENT CLEARANCE FOR UNDER-BED STORAGE. NOTE, TOO, HOW THE FURNITURE IS ALSO CONFIGURABLE VERTICALLY, BY ALLOWING YOU TO BUY ALTERNATE TYPES OF CABINET HUTCHES, ONE WHICH LEAVES THE DRESSER COUNTERTOP FREE FOR KNICK-KNACKS, THE OTHER CONTAINING AN ADJUSTABLE SHELF WITHIN.


THERE ARE ACTUALLY A TOTAL OF 12 UNITS DEPICTED, SOME OF THEM COLOR-CODED:
(1) ROYAL-BLUE KNOBBED HUTCH
(2) PINK-KNOBBED 25" WIDE DRAWER UNIT
(3) LIME-GREEN KNOBBED VANITY (DOUBLES AS A NIGHTSTAND/FILE-UNIT)
(4) MIRROR
(5) SKY-BLUE KNOBBED CUPBOARD UNIT WITH RIGHT-LEFT SWITCHABLE DOOR
(6) ORANGE-KNOBBED 2-DRAWER UNIT (SERVING AS HEIGHTENING BASE FOR OTHER UNITS). Alternatively, the under-bed drawer unit, minus the wheels, can also be used as a base.
(7) HIGH-BED FEATURING 21" CLEARANCE BENEATH FOR STORAGE (CAN DOUBLE AS A COMPUTER DESK, BY SUBSTITUTING A SLAB FOR MATTRESS)
(8) FLIP-LID BIN (WHEELS OPTIONAL) FOR UNDER-BED STORAGE
(9) DOUBLE-DRAWER UNIT (WHEELS OPTIONAL) FOR UNDER-BED STORAGE
(10) TRUNDLE/HEADBOARD
(11) WARDROBE - INCLUDES HANGING ROD, 2 SHELVES (OPTION TO BUY MORE) & REMOVABLE, COLLAPSIBLE BASE-BASKET ON RUNNERS
(12) CHEST-LEVEL MICROWAVE STAND ((DOUBLES AS A SPACE-EFFICIENT B.R. AMOIRE)


EACH OF BELOW 10 UNITS ARE INTENDED TO BE SOLD SEPARATELY IN A MIX-OR-MATCH WAY. FOR EXAMPLE, YOU MIGHT CHOOSE TO BUY ONLY ONE PINK-KNOBBED 4-DRAWER UNIT, FOR $30, TOGETHER WITH ONE SKYBLUE-KNOBBED CUPBOARD UNIT FOR $15 TO REST ON DRAWER-UNIT. DON'T FORCE COMPLETE SETS DOWN PEOPLES' THROATS, THE WAY MANY FURNITURE COMPANIES (AND "BED-IN-A-BAG" LINEN COMPANIES) IMPOSE!


THE DIAGRAMS BELOW ARE ROUGH DEMO-SKETCHES. THE ACTUAL INTENDED COLOR IS
OAK VENEER
THE BELOW "WEIRD" COLORS ARE FOR THE EXPLANATORY PURPOSES OF THIS WEBSITE.
(PLEASE NOTE: I'M AN AMATEUR & DO NOT OWN PAINT-SHOP. I USED MS-PAINT...)
AND THE LIST OF POTENTIAL PERMUTATIONS GOES ON & ON... IT JUST REQUIRES USING SOME IMAGINATION. SUFFICE, THAT THERE'S SO MUCH MORE POSSIBILITES FOR DRESSER, ARMOIRE, CHEST & CLOSET CONFIGURATIONS. BUT IT'S BEYOND THE SCOPE OF MY AMATEUR GRAPHICS STRENGTH.
OTHER PRACTICAL IDEAS:
TABLESPOONS: People who buy fancy silverware and think they're getting a good deal - think again! Because the fancy tablespoons are usually thick, and therefore cannot be used to efficiently scrape out a bowl. Also, for example, when eating a melon, thick spoons cannot efficiently "slice" out pieces the way non-fancy spoons can. Also, it's ridiculous how many tablespoons are designed with an impractical pointy shape, instead of being a more rounded oval. Something to think about - hmm?
REFRIGERATORS: First of all, I wish that Maytag, Frigidaire, Kenmore etc. would implement the same track-type of shelving system for the freezer compartments of their refrigerators, as they do in the frig compartment beneath; i.e. there should be two separate adjustable shelves. One on the right, the other on the left. This way, if you have, say, a huge container of ice cream (or whatever), you would then need to adjust only one of the freezer shelves to make room for it. That's just one example, but that's the general idea. Also, I wish that all refrigerators were made with a larger freezer compartment. Then it wouldn't be necessary to run a separate freezer, which costs alot of money in electric bills. Am I the only one frustrated by this?